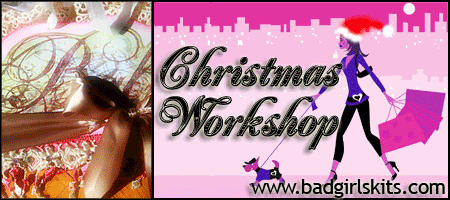 )
The
Bad Girls Kits Christmas Workshop
is going to be starting up. I wasn't around the forum this time last year, but I heard about it. I'm looking forward to getting to learn some new stuff in the next few weeks.
I thought the Christmas Workshop would be a weekend type thing. It's not! It's 22 classes of fun, fun, fun! 22!!!! I'm pretty excited. The supplies of the first few classes are up over at the message board. There are some classes I just won't be able to play along with because I don't own what I'll need. With Christmas just around the corner, the budget is tight and I just can't go out and slurge on my little hobby. But I can still take part a little and try the projects I really like at a later date. I'm still excited none the less.
If you're a scrapper,
check it out
! It'll be so much fun!
Until next time....