How was your long weekend?
Mine wasn't too bad. I can't complain when I got to sit around a fire in my parents' backyard two nights in a row. Enjoyed a couple of beers, ate a few smores (there goes my diet again! Back to square one; start exercising with the Wii Fit today) and shared a couple of giggles with my sister.
My baby sister moved up to Barrie on Monday. She's a newbie Georgain College student. I went along, but I really wasn't any help. I didn't want to put things were she couldn't find them later. I carried the vaccum up the four flights of stairs. Whoo! What a helper I am. Can you feel the sarcasm here?
My poor, baby sister...She was, and might still be, so nervous. I wish there was a way I could take all her nervousness away. I know she'll do great in her studies and she'll have fun.
My mom went all out trying to make my sister's room cozy for her. It's full of fun, bright, funky colours. It screams my sister's name. I contributed an altered box for her to store pencils, pens, whatever she wants.
It used to be a Q-Tip box.
It didn't turn out how I imagined it in my head, but my sister said she liked it. The inside box was first painted with a white primer, then I painted the inside with some bright yellow paint I found at the Salvation Army. The outside of the inside of the box (ya got that?) was painted with new KaiserCraft paint. I love it! It went on so smoothly and thick. I painted two layers on, but I'm sure I could have gotten away with only one. Next, I Mod Podged over all the paint to make it smooth. Next, because it was boring, I doodled around the edges.
The outside was just paper and some KI tags I've had for a while. I wanted bright and fun. These mixed perfectly. I doodled around the tags (there's more on the other side, but I didn't bother taking a picture) so they matched up with the doodling on the inside. I was going to Mod Podge the outside too for protection, but then decided to leave it. That way my sister can fill in the tags easier to put a personal touch on it.
I also make her a little box of envelopes for storing momentos. I stuffed a couple of reciepes, some homemade bookmarks and a picture of Monkey and I into them to get her started. I forgot to take a picture of those.
And last, but not least,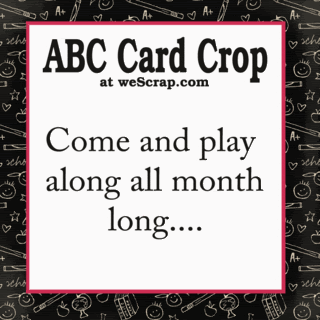 We're going to be having a great card crop at
wescrap
! The DT's will be taking you right through the alphabet. And we have an amazing sponsor...
My Stamp Box
!!!!! Play along with us and you can have the chance of winning some great My Stamp Box stamps. These stamps are awesome! I highly recommend playing along.
Until next time...