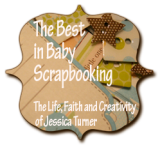 I found this only a few days ago. I still have hundreds of pictures of Monkey I have yet to scrap from his first year. Maybe this will jog my creativity to get something done.
I have a scrapbook just for Monkey's first year. It's not in order right now. I scrap all over. I find that being tied down to going in order just doesn't do it for me. I may be adding pages to Monkey's book for years to come.
I must admit, reading about baby products and seeing baby layouts just makes me want another one so much more. I just have to keep reminding myself now is not the time....now is not the time...now is not the time...
Until next time...